The Mommy Blog getting UP-CLOSE and PERSONAL; giving you an intimate view to REAL EVENTS with REAL THINGS in REAL LIFE with REAL PEOPLE.
Sharing with YOU, myREADERS, daily struggles, good deals, things I ♥, motherly blessings & wifely dedications... daGood, daBad, & daUgly -
EVERYTHING ISN'T ALWAYS PERFECT, NOT EVEN IN THE VIRTUAL WORLD...
PRINTABLE COUPON -
100 FREE Postcards from STAPLES!!!
[INSERT COUPON ICON]
PRINTABLE COUPON -
10 FREE Photo Cards from STAPLES!!!
[INSERT COUPON ICON]
Rafflecopter Linky -
$1,000 CASH GIVEAWAY via LA MOMBA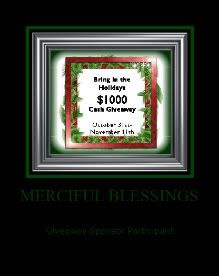 Giveaway is open WORLDWIDE!!!  It starts on 10/31/2011 at 12:00 am EST and ends 11/11,2011 at 11:59 pm EST.  One LUCKY WINNER will be drawn via 
Rafflecopoter
 on November 11, 2011 and have the winnings deposited DIRECTLY into their 
PayPal
!!!
The 
Bring In The Holidays $1000 Cash Giveaway
 is sponsored by 50 of THE MOST INCREDIBLE Blogs and Businesses, which you can find 
HERE
 - this is the PERFECT OPPORTUNITY to check them out & enter to WIN the 1k Prize!!!
Participation for VALID ENTRIES require that you review & follow the step to complete the action for each entry you wish to submit.  There are 50 standard entries, plus the value of two (2) entries for each day you Tweet the event & a bonus entry valued at 100 entries 
IF YOU PROPERLY COMPLETE ALL 50 OF THE STANDARD ENTRIES.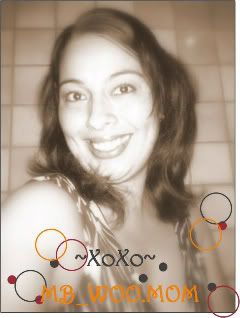 MERCIFUL BLESSINGS
~Wife Of One, Mother Of Many~

•Momprenuer Inquisitive - WILL YOU HEAR?
•Social Media Diciple - CAN YOU TEACH?
•Mommy Blogger - DO YOU TRUST?
-------------------------------
RSS Feedburner URL
http://feeds.feedburner.com/MercifulBlessings
-------------------------------
CIRCLE Us On GOOGLE+
FOLLOW Us On TWITTER
LIKE Us On FACEBOOK
--------------------------------
We are GUEST/HOST Friendly...
offering you the ability to
FEATURE you & your blog, HOST your article,
GUEST POST or INTERVIEW for your blog.
------------------------------
We are PR Friendly...
making available
Advertising Space, Giveaway Hosting,
Product Reviewing, & Sponsor Spotlighting
--------------------------------
{ merciful.blessings@gmail.com }

THANK YOU FOR CONSIDERING MB_WOO.MOM

*Disclosure Policy*